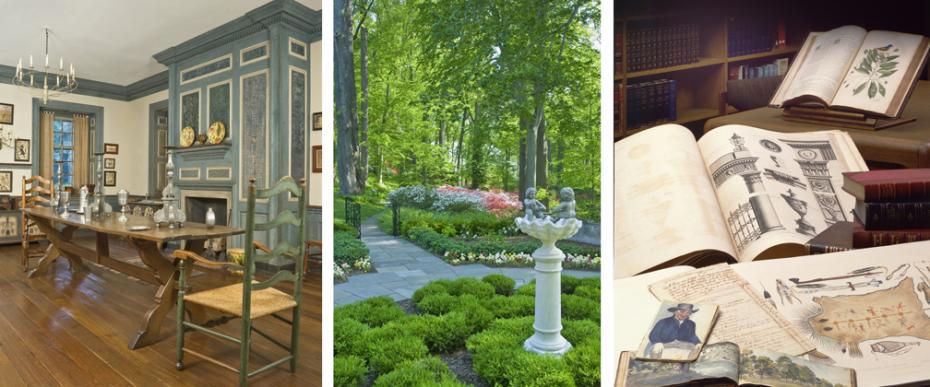 Winterthur (pronounced "winter-tour") is the premier museum of American decorative arts, with an unparalleled collection of nearly 90,000 objects made or used in America since 1640. The collection is displayed in the magnificent 175-room house, much as it was when the family of founder Henry Francis du Pont called it home. Winterthur is also 1,000 acres of protected meadows, woodlands, ponds, and waterways. The 60-acre garden, designed by du Pont, is among America's best, with magnificent plantings and massive displays of color throughout the year. The graduate degree programs and extensive research library make Winterthur an important center for the study of American art and culture. We invite you to visit and explore this exceptional place of beauty, history, and learning.
Vision: Winterthur inspires exploration of American culture and landscapes through compelling stories and experiences.
Mission: Winterthur builds upon the vision of Henry Francis du Pont to inspire and educate through its collection, estate, and academic programs by engaging diverse audiences in the study, preservation, and interpretation of American material culture, art, design, and history.
Values: Agility, Excellence, Innovation, Integrity, Inclusion, Transparency
Diversity, Equity, Accessibility, and Inclusion at Winterthur: Winterthur commits to nurturing a culture where everyone feels welcome and safe, and where diverse viewpoints are valued and respected. Housing collections of documents, plants, and objects made, used, owned, cultivated, and traded by people around the world, we feel a special obligation to share broadly inclusive stories, learnings, and experiences. We strive to identify barriers to being equitable and inclusive so that we can acknowledge and remove them. We would like to hear about your experience here. Please share your thoughts at deai@winterthur.org.
Land Acknowledgement: Winterthur Museum, Garden & Library acknowledges and honors the Lenape who inhabited the lands of Winterthur and what is today northern Delaware and Pennsylvania prior to European contact. Lenape lifeways in Delaware once included activities along large drainage ways of the Delaware River and the Brandywine; smaller bodies of water, such as Clenny Run on the Winterthur property, were likely to have been grounds for hunting, fishing and gathering activities. May we remember the meaning and sacredness of this land for the Lenape who once made it their home and for the value it holds for all of us today. Winterthur Museum, Garden & Library Land Acknowledgement was created in collaboration with Chief Dennis Coker of the Lenape Tribe of Delaware, 2021.
Accepting 2023-2024 research fellowship program applications beginning November 1, 2022